CAMPERVAN CONVERSIONS
 
Any model van converted into your new home on the road.
Citroen
Ford
Hyundai
Iveco
LDV
Mercedes
Nissan
Peugeot
Renault
Toyota
Vauxhall
Volkswagen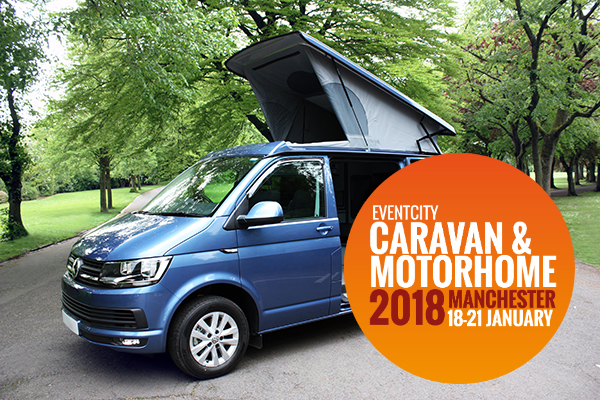 Caravan & Motorhome Show at EventCity in Manchester
We are proud to be participating once again in the Caravan and Motorhome show at EventCity in Manchester, between the 18-21 of January in 2018. You will be able to find us in hall 3, stand 211. Over the recent years, we have expanded into the leisure market, offering cycle carriers, roof boxes and roof bars. In January 2017, we launched our new product of bespoke campervan conversions. We will be bringing two newly converted VW T6 vans to the event, so if you are considering of purchasing a campervan, come along to the show and get a perception of how a traditional van looks like when it is fully converted. Our campervan team are based at our PF Jones depot in Stoke-on-Trent, where all fitting and converting services are completed, in achieving a luxurious and spacious interior design for your campervan. Here at PF Jones, we aim to keep costs low, but still uphold values of providing high quality products and services to all our customers. Using the latest technology and skilled engineers, a traditional van is converted into a new campervan, or you have the choice of purchasing a brand new one. Take your next adventure on the road securely and safely, by booking a towbar fit with us today. Don't miss out on the show, get your tickets online today on www.caravanshows.com
About Our Campervans
With almost 60 years in the automotive industry, supplying and servicing customers all around the world, the next natural step was to start converting campervans. The same excellent service and quality values that we uphold in towbars and diesel has been implemented in every single campervan conversion.

A team of enthusiastic professionals have been assembled at our Stoke-on-Trent depot, In Staffordshire to design, build and convert campervans for customers across the country. We have invested in the newest state of the art machinery and technology to create beautiful interiors for a wide range of vans that are cut and fit to perfection.
The team are experienced campervan owners themselves; with their knowledge and respect for van life they have created spacious and practical living areas in each converted van. Special attention has been made to optimise storage space without losing out on living space. In our new campervans you will be able to enjoy the outdoors and take your home wherever you go, without leaving anything behind.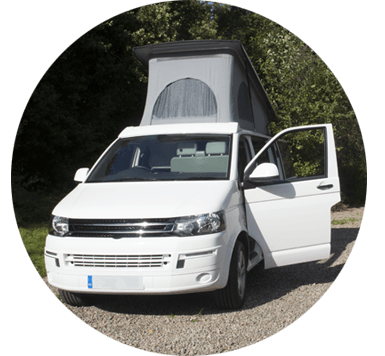 Our Services
We don't want you to be limited by choice, that's why we offer a wide variety of services as part of our new campervan venture. From full conversions on a new van to helping you get started with your DIY conversion with our stage conversions including cutting and installing high elevating roof systems. We can source a brand new or older model van or you can bring a van to us for a conversion, this way we can offer the most adaptable service.

Our custom built cupboards, kitchens and work surfaces are made in house and designed for the most perfect fit to the van of your choice. We use CAD drawings and the latest laser cutting technology to ensure that the interior of every camper is flushed against the edges of the van walling for the most ideal pairing of vehicle and homely touches. The walls of each van are lined with sound deadening technology to make for a soundless drive with minimum rattling, emphasising the difference from a standard van to a PF Jones campervan. A wide range of interior decor choices are available to match your personality and style, including curtains, flooring, worktop surfaces and even wall lining. We want you to feel as at home in your new campervan as you would in your own house. Our standard fit installations include a fridge, toilet, sink/hob and grill, but you can add so much more to make your campervan your own.

All converted vans go through rigorous safety and quality checks to ensure that your new camper is fit for many years of use and enjoyment. Every component installed is brand new and covered by their manufacturer's warranty, plus all our fitting work is completely guaranteed, we build these vans to last the lifetime of the vehicle.
Bespoke Conversions
Campervans made to order just for you and your friends and family to enjoy. If you've been looking for a campervan for a while and haven't found the one that suits you, then our bespoke conversion service is the answer.
We can source and purchase a new or old van and fully convert it or we can fully convert a new or old van you have already purchase.
Ready to Buy Campers
Looking for the perfect campervan to drive away in? Our stocks of high quality campervans are ready for you to look at and test drive at our Stoke-on-Trent branch.
Parts & Services
If you're getting ready to convert your own van but need speciality help with parts like cutting out the roof to install a high elevated roof, then we can help you. As long as your unconverted van meets our regulatory standards, we can install all aspects of a campervan including Eberspacher heating systems and towbars.