Privacy policy
PF Jones is committed to protecting your privacy.
This privacy statement discloses what information we gather about you when you visit the PF JONES.co.uk Site and describes how we use that information. Our policy is to keep the personal information we receive from our Site completely confidential and used solely for internal purposes. We will not share your personal information with any other parties.
Use of encryption
All of the checkout pages/ contact forms, as well as the customer accounts area is protected by 256 bit encryption, Encryption is provided by Geotrust one of the world leaders in online secuirty solutions.
Collection of your Personal Information:
The personal information we collect may include your name, title, company or organization name, e-mail, phone. We may collect certain information about your visit, such as type of browser you use; the date and time you access the Site; the pages that you access while at the Site and the Internet address of the Web site from which you linked directly to our Site. This information is used to help improve the Site and administer the Site.
No credit card/Payment details are every taken on site, after you have finished filling out your details and clicked place order, You will be redirected to a secure checkout page that is hosted by our payment provider, WE NEVER HAVE ACCESS TO YOUR CARD DETAILS.
Use of your Personal Information:
The personal information collected on this Site will be used to provide the Services/Products you have requested.
We may use your personal information to provide you with important information about the product or service that you are using, including product updates and notifications. Additionally, we may send you information about other PF Jones products and services.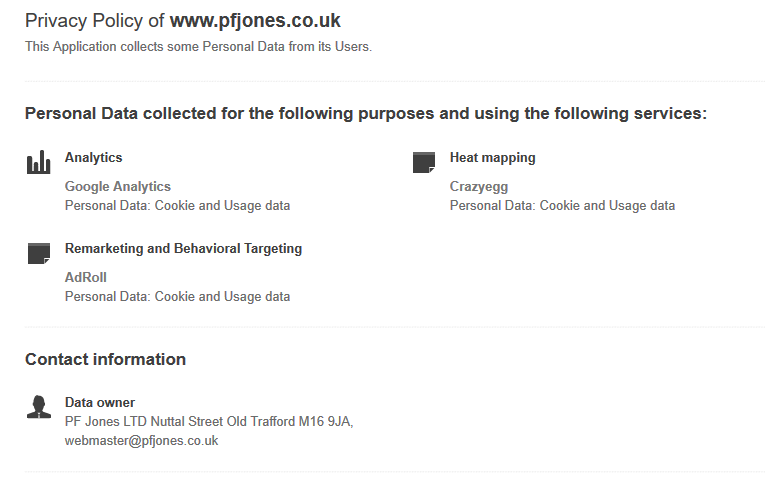 Questions:
If you have any questions about this Privacy Statement or concerns about the way we process your Personal Data, please contact us using the Contact Us form.
We may occasionally modify this privacy statement. All such changes will be reflected on this web page.