Mercedes Citan Campervan Conversions
We offer a range of services for Mercedes Citan vans to be converted into your brand new campervan.
Our campervans are designed and manufactured by our in house team of dedicated specialists, their attention to detail and eye for design are what makes our range of campervan services the best.
The Mercedes Citan was the company's first ever small van and is available in three different lengths of compact, long and extra long. Mercedes was venturing into unknown territory with this van so the manufacturer worked with Renault in order to produce a worthy opponent to the Volkswagen Caddy, the result of this partnership resulted in this small van which is just as good as its larger Vito and Sprinter models. The Citan is a cut above the rest in its quality and refinement which makes a world of difference if all day is spent behind the wheel travelling to the next city or country in your home on wheels.
Although the Mercedes Citan is a small van it feels at home on the motorway and emits hardly any road noise whilst also performing well in town driving as thanks to electric power steering and a tight turning circle, if being able to manage driving your campervan in various weather conditions is a worry then this vehicle will put your mind at ease.
Take a look at our Ready to Buy Camper range; these have been sourced from approved Mercedes dealerships.
You can also request a brand new conversion with our Bespoke Conversion service, you tell us exactly what you want in your camper and we'll do our best to accommodate. You can choose all the interior cabinet finishes, work tops, trims, and colours of carpeting and floor coverings. As well as many additional features including parking sensors, high lift elevating roofing and convertible beds.
If neither of these options to convert your Citan is for you, and you would like to convert it yourself – we can help you out there too with our Campervan Part Conversion services. Take advantage of our knowledge and equipment, by using this service to install a SCA high lift elevating roof or even Eberspacher heating systems. We understand that installing speciality conversion parts can be difficult even for the handiest of DIYers, which is why we offer this stage conversion service.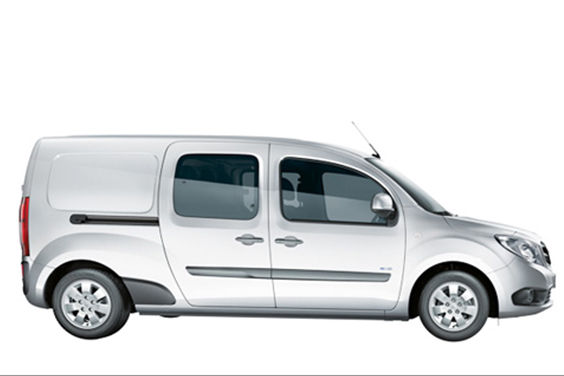 If you have any special requirements please get in touch and we'll our best to accommodate.
Take a look at our introduction brochure below and fill out the enquiry form to contact the conversion team.