Toyota Hi Ace Campervan Conversions
We offer a range of services for Toyota Hi Ace vans to be converted into your brand new campervan.
Our campervans are designed and manufactured by our in house team of dedicated specialists, their attention to detail and eye for design are what makes our range of campervan services the best.
The Toyota Hi Ace has made a reputation for itself as being a dependable and reliable van and a business tool for many. The van isn't the best looking however it does what it says will. The vehicle was redesigned in 2007 to exceed the state of the other vehicles in the market at the same time; it includes features like a re-designed four spoke steering wheel which makes it feel even more like you're driving a car. For the first time and ahead of many of its competitors the Hi Ace offers the option of a DVD full map touch screen sat-nav, this brings the vehicle even closer to a car as well as a standard audio system which plays through two speakers in the car. The Hi Ace lends itself well to being a campervan even if it not the latest version because of its high roof and wide loading space.
Take a look at our Ready to Buy Camper range; these have been sourced from approved Toyota dealerships.
You can also request a brand new conversion with our Bespoke Conversion service, you tell us exactly what you want in your camper and we'll do our best to accommodate. You can choose all the interior cabinet finishes, work tops, trims, and colours of carpeting and floor coverings. As well as many additional features including parking sensors, high lift elevating roofing and convertible beds.
If neither of these options to convert your Hi Ace is for you, and you would like to convert it yourself – we can help you out there too with our Campervan Part Conversion services. Take advantage of our knowledge and equipment, by using this service to install a SCA high lift elevating roof or even Eberspacher heating systems. We understand that installing speciality conversion parts can be difficult even for the handiest of DIYers, which is why we offer this stage conversion service.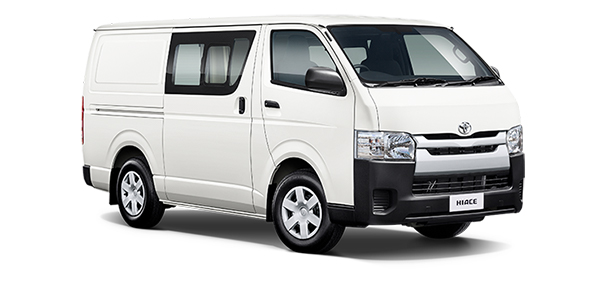 If you have any special requirements please get in touch and we'll our best to accommodate.
Take a look at our introduction brochure below and fill out the enquiry form to contact the conversion team.