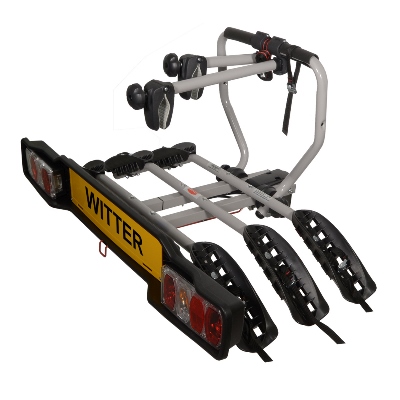 Technical Specifications
Carrier Type:
Towbar Mounted
Witter Bolt-on Towball Mounted Bike Cycle Carrier
ZX203 ZX203 Bolt-on Towball Mounted 3 Bike Cycle Carrier

The Witter Bolt-on Towball Mounted 3 Bike Cycle Carrier has a platform style build, enabling the bike rack to hold multiple bikes. Its sturdy shape is ideal for securing different bike types at once and transporting them securely.
Features
The carrier clamps to a UK towball using an adjuster screw.

Folding capabilities allow more room for storage in vehicle.

Easy coupling which fits most towbars.

New cycle support arms fasten the bike safely to the cycle carrier.

Option to upgrade from wheel handles on cycle support hands to lockable handles that secure cycles to carrier.

Even with cycles loaded, tilts for easy access to the vehicle's boot.

Low platform makes it easy for cycles to be loaded and unloaded.

Adjustable wheel holders accommodate most cycle sizes.

Supplied with light board and New 2in1 electric plug to accommodate both 7pin and 13pin sockets—no adaptor needed.




Technical Specifications
Carrier requires an initial assembly taking approx 50 minutes (instructions are included in the box)

Maximum payload – 51kg

Maximum weight per cycle - 17kg

Unladen weight - 13.6kg

+700mm for ferry dimensions.