Towbar Fitting Macclesfield
Towbar Fitting Macclesfield
If you are looking for a towbar we are the UK's number one seller of towbar, no one stocks or sells more towbars than us. We have the widest range of towbars and offer the best prices on a huge range of towbars from the world's leading manufacturers. 
With over 10,000 SQ feet of warehousing filled with thousands of towbars, and daily delivery from the three biggest manufacturers no one has more bars ready to deliver.
Many of customers come back time and time again, due to our unbeatable prices and excellent customer service, with over 8200+ positive reviews on Trustpilot, you can feel safe in the knowledge we know what we are doing when it comes to towbar fitting. Check our Trustpilot reviews

We fit towbars for many of the region's main dealers, we stock many of the OEM towbars the main dealers will sell you, with savings of over 50% on main dealer prices. Why not get a quote from us and see how much money you could save on the exact same item.
We can offer two options for our towbar fitting service, a depot fit at our HQ in Old Trafford or a mobile fitting service at either your home or place of work, at a time to suit you.
All work is 100% guaranteed
 All fits done by one of our network of towbar fitters is 100% guaranteed by ourselves, for this reason, we fully vet all our fitters prior to ensure they are all time served and able to deliver the same standards we do in one of our depots. All our towbar fitters are time served and have hundreds of hours experience fitting towbars.
Call and ask one of the sales team about arranging a mobile towbar fitting.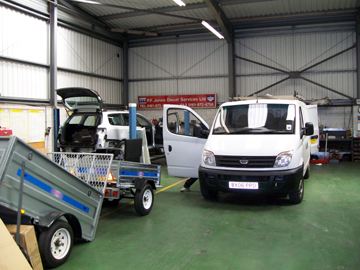 Our towbars are made by the leading British and European manufacturers and conform to the very highest standards including European Type Approval. We offer an expert and competitive fitting service or we can offer supply only. Our brands include Witter, Bosal, Westfalia, Brink and our own PF Jones towbars.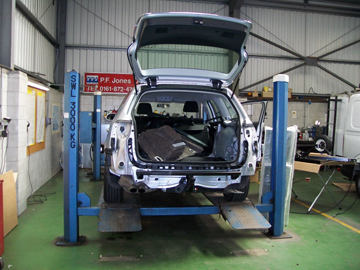 Towbars are usually fitted within 2-3 hours dependant on the type of vehicle and the type of electrics you require, For more information on electrics, see here.
Our Main tow bar fitting Manchester location is located just 2 minutes drive from Manchester United football ground
PF Jones Ltd
Nuttall Street
Old Trafford
M16 9JA
Understanding your towbar electrical requirements
Trailers
7 Pin (12N)
Boat Trailers
Trailer Boards
Cycle Carriers
Horseboxes
Jet Ski Trailers
Motor Cycle
Trailer Tents
Caravans manufactured before September 2008
Twin (12N and 12S)
(Can already take any 7 pin towing item)
Caravans manufactured after September 2008
13 pin
European cycle carriers
Westfalia Portilo, Thule G6 929
(Optional 13 pin to 7 pin adapter means can tow any of trailers section)
Dedicated or Universal
Dedicated kits are available for all 3 types 7 pin, Twin and 13 pin, Dedicated kits
will not invalidate
the manufacturer's warranty and are designed to work in harmony with your vehicles electrics, most kits require some expertise in fitting and some applications require a download to activated the towing facility.
No Bypass relay required
Universal kits are the lowest cost option to dedicated wiring kits, universal kits are fitted by crimping or soldering into the vehicles wiring. They
will not activate
some of the features of the vehicle ie rear parking sensors or activate the vehicles Trailer Stability Programme.

Request a Macclesfield Towbar Fitting Quote

Why not get a Ghost immobiliser fitting Macclesfield at the same time?