Mobile Towbar Fitting Bristol
Offering towbars to both trading businesses and the general public has allowed PF Jones to become the largest supplier of towbars within the UK. Supplying towbars on a large allowing PF Jones to build a large stock of over 10,000 towbars at any one time. The diverse range of first-class manufacturers and brands of towbars are available for supply and fit nationwide at greatly discounted prices to customers, whether they are purchasing large bulk shipments or a singular towbar.
Looking for Mobile Towbar Fitting Bristol?
A professional mobile towbar fitting service is available in the Bristol and its surrounding areas. We understand that not all of our customers have the time or experience to fit their own towbar, which is why we offer an at home or workplace fitting service where our Bristol based trained and professional towbar fitter will come to you at your convenience. We work closely with our qualified mobile fitters to ensure a quality service is delivered to both the customer and the vehicle.
To assure our customers that they will be pleased with the work completed by our Bristol based fitter, work is fully guaranteed. We work as a team to support and our mobile fitter to continuously improve the service they provide on our behalf. The Bristol-based fitting service covers all areas of Bristol including:
• Ashley
• Avonmouth
• Bedminster
• Bishopston
• Bishopsworth
• Brislington East
• Brislington West
• Cabot
• Clifton
• Clifton East
• Cotham
• Easton
• Eastville
• Filwood
• Frome Vale
• Hartcliffe
• Henbury
• Hengrove
• Henleaze
• Hillfields
• Horfield
• Kingsweston
• Knowle
• Lawrence Hill
• Lockleaze
• Redland
• Southmead
• Southville
• St George East
• St George West
• Stockwood
• Stoke Bishop
• Westbury on Trym
• Whitchurch Park
• Windmill Hill
Postcode areas
BS99, BS98, BS9, BS8, BS7, BS6, BS5, BS49, BS48, BS41, BS40, BS4, BS39, BS37, BS36, BS35, BS34, BS32, BS31, BS30, BS3, BS29, BS28, BS27, BS26, BS25, BS24, BS23, BS22, BS21, BS20, BS2, BS16, BS15, BS14, BS13, BS11, BS10, BS1, BS0
Every towbar fit is different and can be time-consuming depending on the vehicle, towbar type and electrics required for towing purpose. For a professional towbar fitter, the average time to complete the job will be 2-3 hours. If you know what you will be towing but are still unsure about which towbar electrics you need to see our guide to electrics.
No One Stocks More Towbars
Having a high stock level of towbars is important to our customers, it means there is a higher chance of having the towbar type for your specific vehicle is in stock and ready to deliver to your address as quickly as possible. We only stock the best quality towbars that meet the high standards expected of our customers. All towbars stocked at PF Jones are made by British and European manufacturers and meet the trading standards of European regulations including EC Type approved towbars for the European Community Whole Vehicle Type Approval (ECWVTA) association.

Our own quality assured manufactured towbars branded PF Jones Towbars are available to all customers at competitively low prices as well as brands including Witter Towbars, Bosal, Westfalia-Automotive, Brink, and Thule.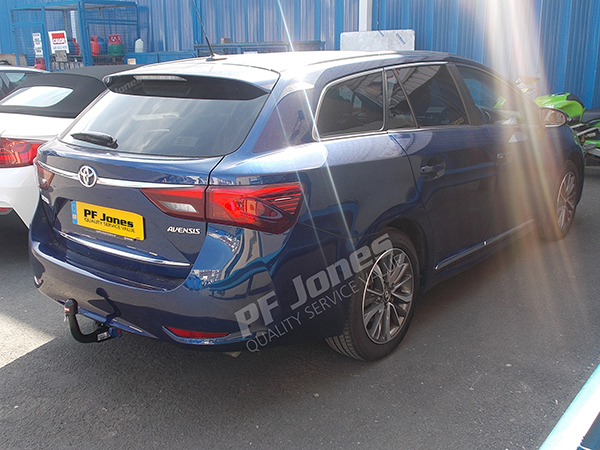 7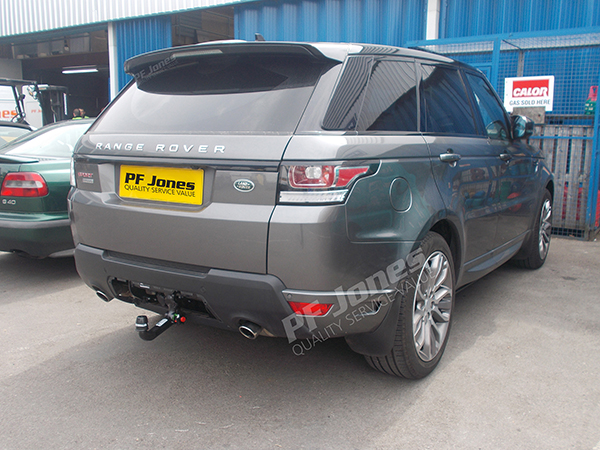 We also have other Thule and Witter products available for delivery including bike carriers and roof boxes which are available for free fitting at any of our depots.

Need help or would like to a free no-strings-attached quote on towbar fitting in Bristol? Call our specialist team on 0333 772 0659 or request a call back by filling out our online form.

For DIY fitters and traders, towbars are available for supply only along with our free fitting support helpline.
Understanding your towbar electrical requirements
Trailers
7 Pin (12N)
Boat Trailers
Trailer Boards
Cycle Carriers
Horseboxes
Jet Ski Trailers
Motor Cycle
Trailer Tents
Caravans manufactured before September 2008
Twin (12N and 12S)
(Can already take any 7 pin towing item)
Caravans manufactured after September 2008
13 pin
European cycle carriers
Westfalia Portilo, Thule G6 929
(Optional 13 pin to 7 pin adapter means can tow any of trailers section)
Dedicated or Universal
Dedicated kits are available for all 3 types 7 pin, Twin and 13 pin, Dedicated kits
will not invalidate
the manufacturer's warranty and are designed to work in harmony with your vehicles electrics, most kits require some expertise in fitting and some applications require a download to activated the towing facility.
No Bypass relay required
Universal kits are the lowest cost option to dedicated wiring kits, universal kits are fitted by crimping or soldering into the vehicles wiring. They
will not activate
some of the features of the vehicle ie rear parking sensors or activate the vehicles Trailer Stability Programme.
Request a Bristol towbar fitting quote
Why not get a Ghost immobiliser fitting Bristol at the same time?