PTC Ceramic In Cab Heater 12V - 300W Auto Heater Fan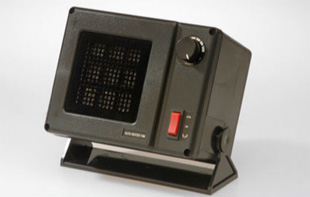 Ideal for use in Cars, Trucks, Campervans, Tractors etc
Key Features:
110 c High temperature from blower outlet

Special treatment on blower window, no risk of burns

Create infared brings you clean air
Dimensions:
Includes Red and Black 11 feet Cables
Operating Instructions:
1. Function Select SwitchFan Speed Control
DOWN Position: Both fan and heat on
LEFT Position: Heater turned off
UP Position: Fan only on with no heat
2. Fan Speed Control
Rotate right or clockwise for High Speed Fan

Rotate left or counter clockwise for Low Speed
3. Swivel Knobs
To tilt heater up or down, loosen swivel knobs one side and retighten
4. Connect spade terminal on in-line fuse holder to positive (+) post on vehicle battery.
5. Crimp spade terminal on black wire and connect to negative (-) post on vehicle battery.
WARNING
THE USE OF OVER 1 HOUR IN HEAT POSITION WHEN ENGINE IS STOPPED, MAY CAUSE A BATTERY WEAKNESS
THE FAN POSITION DOES NOT HEAT BUT ONLY VENTILATES