Choosing the right cycle carrier

Cycle carriers or bike racks are a great travel accessory for your car – giving you the ability to take the bikes with you wherever you go. From electric bikes to children bikes, free space inside your car by mounting the bikes on the outside, either on the roof, rear door or even towbar of your car.
Before buying a cycle carrier, make sure you have answered the following questions to see which carrier will suit you, your car and your bikes the most.
1. What car do you have?
Most hatchback and saloon cars can support a rear door carrier, with some exclusion including any cars with spoilers or hatchbacks with large windows. When it comes to towbar and roof bar mounted carriers, these will mount on your car if you have a towbar or roof bars already fitted on your car. You can use our fit guide to see if our range of carriers will fit on your car.
2. How many bikes do you have?
There are cycle carriers for 1, 2, 3 and 4 bikes – how many bikes you intend to carrier before buying one is essential to save the hassle in the future of upgrading or getting a complete new style of carrier.
Roof bar bike racks are sold separately or as a pair, this is the best option if you're only ever going to take a single bike on your journey – plus you have the choice to add more. Another option would be to get a carrier that holds 2 bikes, that way you have the full choice of rear door carriers, roof bar carriers and rear door carriers.
If you are on the other end of the spectrum and need to carry 4 or even more bikes, then you are probably best to look at towbar mounted platform carriers – Thule only do a fixed 3 bike carrier but have an extension for flexibility to go for 4 and Witter have 4 bike carriers ready available. If you're going for more than 4 bikes, having a towbar mounted carrier paired with a set of roof bar mounted carrier's means than an average sized car could carry 6 bikes.
3. Do you have an electric bike?
If you have electric bikes then the best option for you is a platform towbar mounted carrier, these have the biggest maximum load weight for your heavy electric bikes.
Now you know which styles of carrier you can have, browse through our range of roof bar mounted, rear door mounted and towbar mounted carriers – we have something to suit most people.

Rear door mounted cycle carriers
Probably the easiest option of travelling with your bikes, rear door racks need no other accessory or fixings other than the carrier itself. Everything you need to mount this carrier comes in the box. They work by connecting a series of straps and clasps onto the boot of your car – usually they grasp onto the edges or fixings on the rear of your car and trap straps upon closing the boot and then the bikes have separate clasps and straps to mount onto the carrier.
Things to consider before getting a rear door mounted carrier:
Can you see your number plate and rear lights when they bikes are mounted? If anything is obscured you might find yourself with a fine or points on your licence – always check before driving off and invest in a light board with a number plate if necessary.
Are you planning on driving long distance without stopping? We highly recommend you stop to tighten the straps on your carrier every couple of hours to ensure maximum safety.
Are you planning on leaving the bikes on your car unattended? There are no locking mechanisms with rear door carriers, make sure you never leave them alone when you stop on your travels.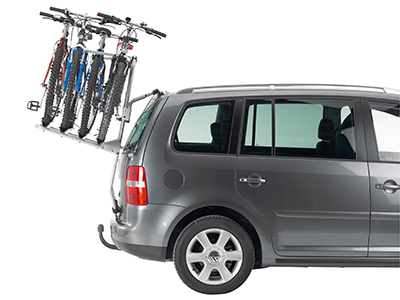 Roof bar mounted cycle carriers
Easily the most stylish option, if you've ever watched a long distance cycle race like the Tour de France, you know how cool these carriers can look on your car. We have different ranges to best suit your car, your bikes and your style. Each carrier is mounted individually to a set of secure roof bars which can be locked into place with a key. They are then adjusted to fit around your bike and again, locked into place to prevent theft and to maximise safety on the move. The main benefit of roof bar cycle carriers is the convenience – you can still have full access to your car and more importantly for travelling, your car boot!
Things to consider before getting a roof bar mounted carrier:
How fit are you? We don't ask this to question you ability to ride a bike, but you will need to be able to lift your bike above your head with ease in order to mount the bike to the roof without injuring yourself or harming your bike or car.
Do you already own a set of roof bars? If you do that's great, this can be the perfect carrier for you – if not, don't forget to factor the bars and fitting kit price before weighing up the costs.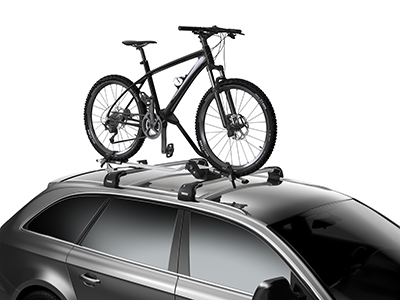 Towbar mounted cycle carriers
The growing in popularity towbar mounted cycle carriers gives you all the benefits of travelling with a bike rack without the hassle of worrying about lifting bikes high over the top of your car or fearing the straps might come loose on the motorway. These carriers sit neatly on your towbar and lock into place with a simple leaver mechanism – lock with a key included for most carriers for extra security. The 2 main styles are hanging and platform. One of the main benefits to towbar mounted bike racks is the load capacity which is significantly higher than the other options – perfect for multiple bikes or electric bikes. Another benefit is the flexibility to have a tilting function, allowing you (on most cars) access to the boot of your car while simultaneously carrying bikes. Accessories such as ramps are also available so you don't have to lift them too high.
Things to consider before getting a towbar mounted carrier:
Do you already have a towbar? This is a big factor to getting a towbar mounted cycle carrier, not only would you have to buy one, but then you've also got to consider fitting costs, electrics costs plus making a significant alteration to your car.
Do you have a garage? Or any other storage space, when not in use, towbar mounted carriers can be particularly bulky. Luckily there are compact options but you will still need space to store it!
The cost – towbar mounted carriers, due to their sturdier nature are usually more expensive.