Eberspacher Hydronic water heaters for diesel vehicles
So you not only want to heat the passenger compartment, but also the fresh water and to keep the windows clear as well? Then you should decide for an Eberspächer Hydronic water heater
The most important advantages summarized
Pleasant cosy warmth in the passenger compartment

Constant hot water for washing and showering

More safety by clear windows and a clear view

The engine reaches its operating temperature faster after starting.

Space saving installation under the floor - thus more storage space

Fuel supplied from the vehicle's own tank

Low-noise operation

Low fuel consumption

Integration in the vehicle's own water system

Maintenance-free, easy to serviceHeating started by timer, radio remote control or telephone
How an Eberspächer water heater works
This extremely compact system heats primarily the heating water system to provide a pleasant living room temperature. A changeover valve provides even more comfort: you get plenty of hot water, enough even to take long showers. When you drive off the engine heats up quickly and its optimum operating temperature is soon reached.
System accessories for individual complete solutions
In addition to pre-heaters, Eberspächer offers a wide range of high-quality, optimally matched accessories. In this way quite special requirements for use in motorhomes can be fulfilled perfectly.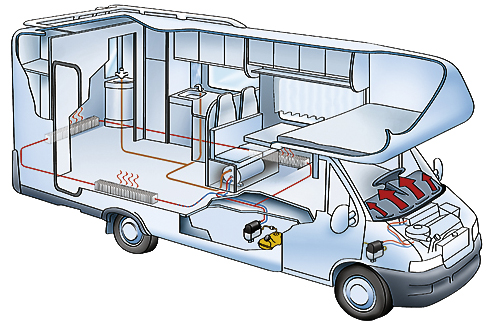 More information on Eberspacher Heating Systems