Eberspacher Airtronic air heaters for diesel vehicles
Eberspacher Airtronic air heaters for diesel fuel systems
This type of Eberspacher heater is the most effective and reliable choice if you want the comfort of warmth immediatley and need a presettable timer for longer operating times.
The most important advantages of owning an Eberspacher airtronic heater.
Automatic and continuous room temperature control with optional seven day timer
efficient power stage for short heating up times
Superior comfort due to temperature setting options and quiet night-time operation
Low fuel consumption, suitable for long periods of operation ( ideal for H.G.V. that are sat idle for hours on end waiting to be loaded).
Diesel fuel supplied from the vehicle's own tanks
Multiple compartment heating
Various sizes of heater depending on the area needing to be heated
Small and compact for easy and space-saving installation optional external fitting into secure boxes
Extremely Low noise operation
Easy to service by buying a service kit through P.F.Jones or booking an engineer to come to you.
Heating optionally started by timer, radio remote control or telephone
How the Eberspacher airtronic air heater works.
The Eberspacher Airtronic air heater system is the ideal solution if you want to heat the interior of your motorhome,car,horse box etc. It draws in air from inside the vehicle , heats it and expells it back into the desired compartments. Easy adjustment of the room temperature through day and night keeps you feeling comfortable warm and happy.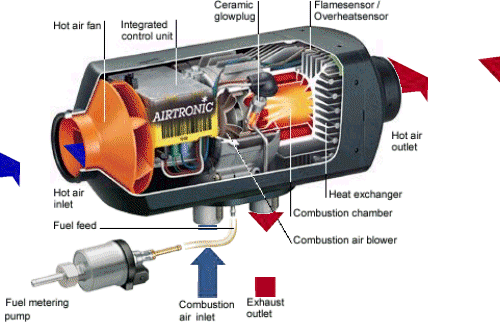 View the Airtronic working demo video here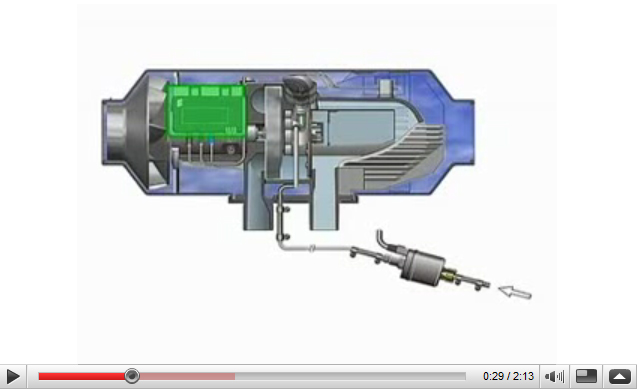 System accessories and specific kit design for individual complete solutions by P.F.Jones ltd.
In addition to pre-heaters, Eberspacher offers a wide range of high quality, optimally matched accessories (eg. chlorifiers ducting and exhausts) . In this way nearly all requirements for use in motorhomes and other applications can be fulfilled perfectly.For a specific kit for you vehicle whatever the make model etc contact P.F.Jones design and fabrication team on 0161 872 4755
More information on Eberspacher Heating Systems