Thule 9503 RideOn 3 Bike Cycle Carrier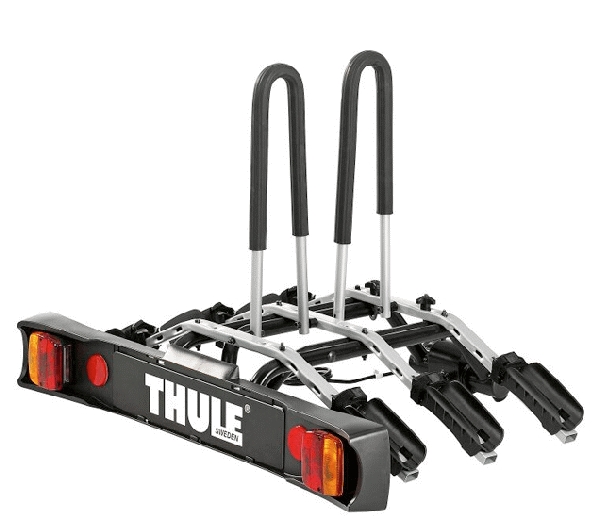 The Thule 9503 RideOn 3 Bike Cycle Carrier is a basic, reliable bike carrier perfect for any standard bike transportation requirements. It's lightweight design and easy to secure function makes the carrier a recommended choice for first time buyers or those looking for a basic bike rack. The build of the carrier ensures an easy fit to the majority of towbars and vehicle types. From here, the cycle carrier has a great capacity and helpful level of abilities that are sure to appeal to any potential buyer.


Features
The titling feature of the carrier provides boot access without off-loading the bikes.
Soft straps included for the securing of the bikes.
Smart coupling, meaning the carrier fits most towbars.
Lightboard included for increased satety and fulfillment of legal demands.
To lock bike rack to vehicle see Thule Lock 957000 (£15.00) 
To lock bikes to bike rack see Thule Cable Lock 538000 (£35.00) 
For a "29er" bike please use a 925 VeloCompact, 927 VeloCompact, Easy Fold 932, G6 928 or G6 929 bike carrier. 
Technical Specifications
Max number of bikes - 3
Load capacity - 45 kg
Max bike weight - 15 kg
Dimensions - 105 x 75 x 70 cm
Folded dimensions - 106 x 77 x 25 cm
Weight - 12 kg
Fits frame dimensions - All
Detachable frame holders - ✖
Distance between bikes - 19 cm
Carbon frame compatible - ✓
Wheel mounting on adjustable holders - Adjustable straps
Tilt function (with bikes) - ✓
Fits cars with exterior spare tyre - ✖
Rear lights - ✓
Power connector - 7-pin
One Key System compatible - ✖
Lockable bike-to-rack - ✓ Adapter/s required: Thule Cable Lock
Lockable rack-to-vehicle - ✓ Adapter/s required: Thule Lock 957
Model number - 9503