Eberspacher Airtronic D2 Heater Kit Inc. Silencer 24v

This is a universal kit and includes most parts required for a standard installation. Additional parts may be required for specific applications, if you are unsure if this kit is suitable or need any further help please contact us via our website or call us on 0161 872 4755.
MAIN HEATER UNIT (latest Version)

HEATER MOUNTING BRACKET

FUEL PUMP WITH MOUNTING BRACKET

DIGITAL CONTROLLER AS SHOWN BELOW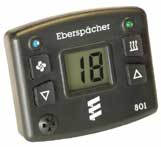 500mm X 24mm STAINLESS STEEL EXHAUST PIPE AND END CAP

STAINLESS STEEL EXHAUST SILENCER AND MOUNTING BRACKET

500mm X 24mm AIR INTAKE PIPE

1m X 60mm HOT AIR DUCTING

1 INLET SAFETY SCREEN

1 ROTATABLE OUTLET VENT

1m FUEL PIPE (fuel source to pump - 6mm OD x 2mm ID)

6m FUEL PIPE (Pump to heater - 4mm OD x 1.25mm ID)

400mm RUBBER FUEL PIPE (12mm OD x 5mm ID)

COMPLETE HEATER WIRING LOOM (inc. all wiring hardware required for installation)

CLAMPS, CLIPS, SCREWS, BRACKETS, T PIECES, FUSES, PLUGS, ETC.

INSTRUCTION MANUAL AND 3 YEAR WARRANTY PAPERS

TECHNICAL DESCRIPTIONS AND PRODUCT DATA DISC
The Airtronic D2 Heater:
The D2 is a compact and economical heater which offers optimised fuel efficiency, a range of operation modes and unsurpassed safety standards. It has programmable independent heating (does not use heat from the engine) for all types of road and marine use.The heater is certified for installation in passenger areas and in close proximity to dangerous substances.