Eberspacher Airtronic D2 VW T5/T6 Kit inc. 7 Day Programmer

(INTERNAL FITTING HEATER)

This is a vehicle specific kit for the VW T5/T6 Transporter and contains all the parts required for a standard internal installation.

The Airtronic D2 Heater:
The D2 is a compact and economical heater which offers optimised fuel efficiency, a range of operation modes and unsurpassed safety standards. It has programmable independent heating (does not use heat from the engine) for all types of road and marine use.The heater is certified for installation in passenger areas and in close proximity to dangerous substances.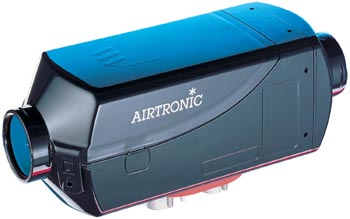 Whats included in the kit: 


MAIN HEATER UNIT (latest Version)
 
FUEL PUMP WITH MOUNTING BRACKET
 
7 DAY PROGRAMMER AS SHOWN BELOW
INTERNAL HEATER MOUNTING BRACKET 
800mm X 24mm STAINLESS STEEL EXHAUST PIPE AND END CAP
  
STAINLESS STEEL EXHAUST SILENCER AND MOUNTING BRACKET
 
500mm X 24mm AIR INTAKE PIPE AND END CAP
 
500mm X 60mm HOT AIR DUCTING
 
1 INLET VENT
  
1 ROTATABLE OUTLET VENT
 
COMPLETE VW T5 FUEL LINE KIT

COMPLETE HEATER WIRING LOOM (inc.all wiring hardware required for installation)

1m LARGE & 1m SMALL CABLE TRUNKING
ALL REQUIRED CLAMPS, CLIPS, SCREWS, BRACKETS, T PIECES, FUSES, PLUGS, ETC.

INSTRUCTION MANUAL AND 3 YEAR WARRANTY PAPERS
 
TECHNICAL DESCRIPTIONS AND PRODUCT DATA DISC


These heaters will work in temperatures down to minus 40 degrees C
If you're using your heater above an altitude of 1500m then you will need to purchase a high altitude kit from us in addition to this kit. 
Please click the link below to view this kit:

https://www.pfjones.co.uk/eberspacher-airtronic-d2-kit-12-volt-high-altitude-kit.html
Airtronic Demonstration Video