Spring is a time when the sun starts to come out and flowers once again begin to bloom, it's also one of the best times of year for outdoor photography. More and more people are turning their attention to photography thanks to pretty social media posts and travel blogs. The attractive nature of capturing images of the outdoors can be done by any person, whether you are out for a bike ride and see a colourful sunset or hiking up trails surrounded by nature. But simply taking a quick shot isn't enough, to get quality pictures that inspire awe and memories that last, sometimes a few extra tips are required. So for anyone looking to improve their photography skills for the next time they're outdoors enjoying the spring season, here are a few quick tips to help.

Lighting
Spring means that there is more sunlight during the day so there's more time available to get some great shots. Its well known that early mornings are the best time of day to catch the best natural lighting, you can improve your skills by waking up early and taking your camera out for a spin. Specifically, this perfect 'golden hour' takes place an hour after the sun comes up and is prime time for nature photography as there are less people about and everything is peaceful. Alternatively, make sure you avoid midday sun, this is when the suns at its brightest and without shade it can cause a glare in your images you just don't want to see. If you do find yourself stuck in the brightness of the sun but see something special you want to photograph, you can find some shade to try and defuse the harsh light. The quality of your pictures will improve immensely- plus you'll look professional to your travel buddies!
Another quick tip is to focus your photography on traditional spring sights and colours such as; flowers in bloom and animals who have come out of hibernation. The change in nature means that greenery reappears to give photographers some colour to their shots after a long winter.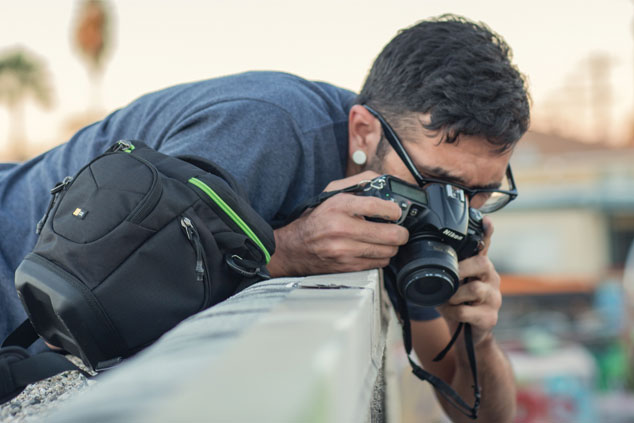 Gear
Of course if you're trying to be more organised in order to capture the best images you need to pack the right gear. You don't need to be a professional photographer in order to be prepared. Luckily phones these days have an amazing ability to capture stunning quality images so you don't need to drag around a heavy, long lense camera everywhere you go. This saves room in your bags for other belongings and supplies you might need, convenient wouldn't you say? But if you do wish to take a larger camera with you on your adventure, it's a good idea to attach a strap so that you can easily slip it around your neck when moving. This also makes it easier to take spontaneous images without rooting through your bags and wasting time.  

Nature
If you're out on a hike or camping, try not to disrupt the wildlife around you, this way there will be more of a chance for you to get some great nature shots of the animals and plantation. For animal shots it's best to stay quiet to better your chance for successfully capturing them in their natural environment. Say for instance, you see a squirrel on your hike try not to go charging towards it expecting it to wait for you, it's more likely to run away than stick around. While we're on the subject, make sure you're mindful of the outdoor environment and keep your distance from wildlife, it's their home you're in after all and it's best to leave them be.  

Focus
Sometimes there is so much going on that you want to capture it all in one image. This can make the resulting shot appear chaotic and messy, instead try to focus on one aspect of what it is you want to photograph, whether it's a flower or person. By having a focal point the quality of your image will improve as you're controlling the clarity of the photo by directing all your attention to one element. Distracting photos only serve to make viewers confused and takes away the overall quality of the image.
With this in mind, be aware of your angles. You hear it all the time with social media influencers but it's true, you get some of the best images from experimenting with different angles. Crouch down to try and fit the whole landscape into your frame or even point the camera up to make things appear larger than they are.    

Image scale
Try to create your own image scales when taking a photo. By this I mean use something in your photo that shows others how big or small something else in the shot is. We see them all the time on social media, they are a favourite with travel bloggers and outdoor photographers alike. For example if you're exploring the edge of a mountain and come across another in the background then use a person to stand in the frame as your focal point and have the mountain behind them. This will enhance the size of the mountain on the photo by giving it an exaggerated effect and bring you closer to creating an image like those done by the professionals.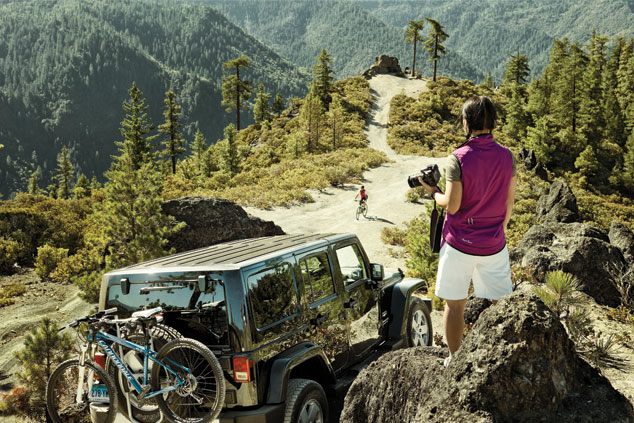 So there you have it, a few quick tips to help improve your outdoor photography this spring. Now you can enjoy days out on a bike ride or a hike, stopping to take some obligatory spring pictures that capture the season and natural landscape with more skill than you had before. It's always fun to snap some shots on your camera, especially when you come across new things outdoors. By using these quick tips you will be in a better position to take the best photographs you can while enjoying the outdoors this spring.