For many people living in a campervan full time, anything that will make life easier or add to their quality of living is immediately taken hold of and passed around the community by word of mouth. If you go to a van life meet up then you are guaranteed to see countless vans in different state of conversions, all unique in their own way, but the majority will have a pop top roof. The popularity of pop top roofs has grown through the years with there now being specialised pop top roof fitters available for assistance. With this growing niche in the market of campervan conversions, it may be useful to examine what it is that makes this feature so popular.   
Extra space
When upright, the pop top roof will allow for more space to be available inside the campervan. This means that there will be plenty of room for someone standing and will give an open feel to the interior. With this being said, the extra height offered by the pop top roof means that any person of any height can spend time in the campervan comfortably and without any trouble. With such a limited amount of space available inside a campervan, anything that will provide that additional room is seen as an attractive bonus.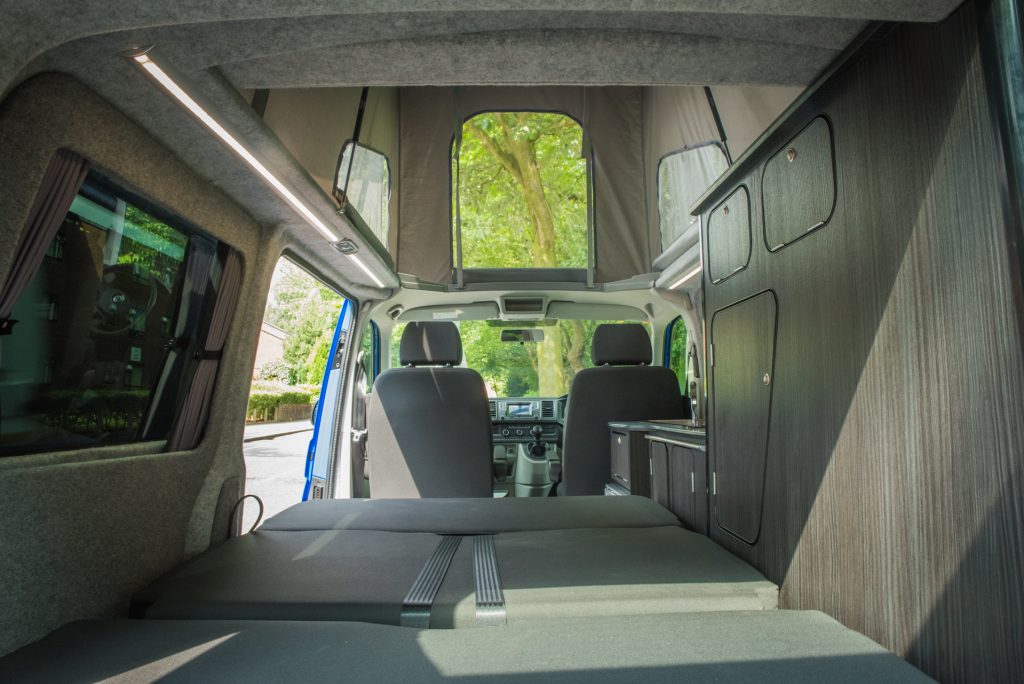 Airy interior
The extra windows created by the sides of the open roof means that more light is allowed into the interior thanks to some roofs such as an SCA roof, one which offers a panoramic canvas. This natural light helps to make your interior feel warm and comfortable as well as giving you the feeling of being outside rather than in a van. This effect allows for less cramped space and has a positive effect on the occupant as it gives off a sense of comfort and relaxation. Plus, it provides you with extra window space that you can use to enjoy the various scenic views when travelling.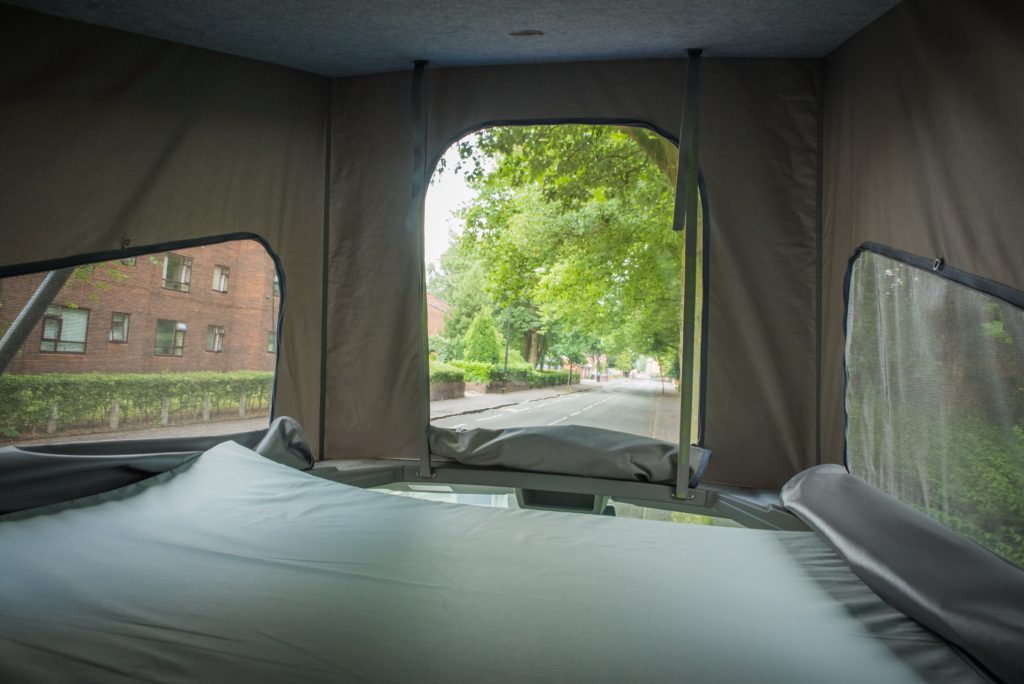 Privacy
Thanks to the additional space, the roof acts as a second floor of sorts and results in a private bedroom area away from the other parts of the campervan. This is a handy feature for anyone living full time in a campervan and for when there is more than two people sleeping in the van at once. Alternatively, making the roof your sleeping area means that there is more space in the base of the campervan for a kitchen, seating area and storage etc. This is a huge bonus when travelling with another person, as with such a limited amount of space it is easy to become overwhelmed.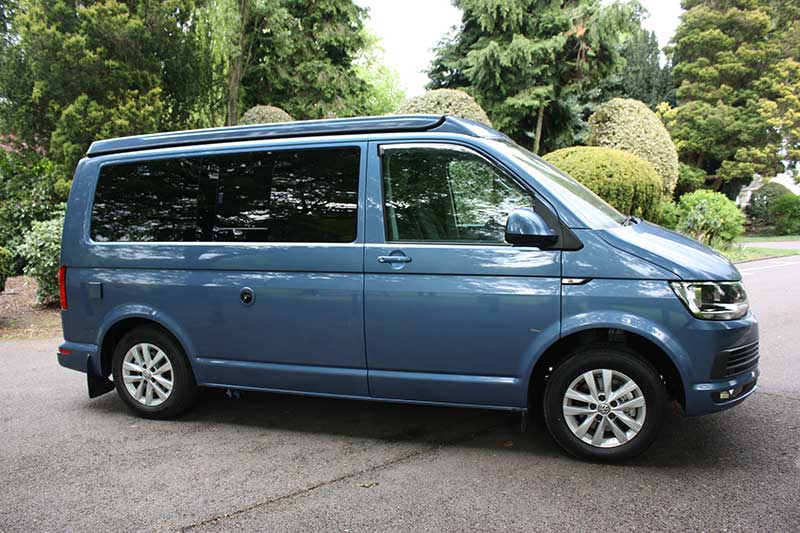 Quality design
With a sleek, sophisticated design, this is a feature that is attractive both folded away and upright. The design of the pop top roof means that only a few inches is added to the overall height of the van when folded down, meaning that nothing is taken away from the appearance of the exterior. This also means that you don't have to worry about any extreme measurements being added to your vehicle's height, disallowing you from entering any space that requires you to drive under a barrier.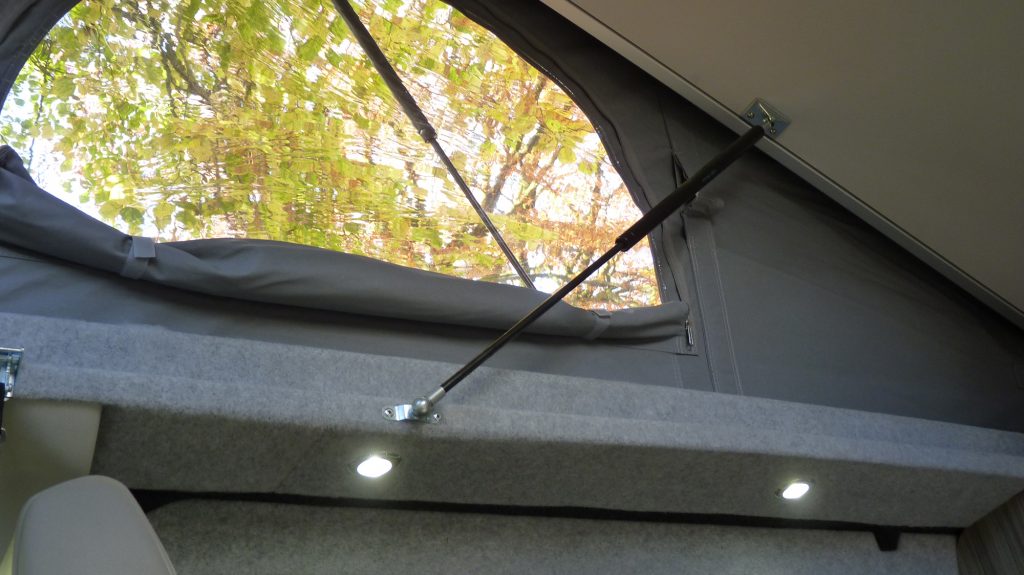 Convenience
The installation of the pop top roof is designed so that it is easy to fold up and down when setting up or taking down your camp. Many pop top roof manufacturers use different methods to secure the elevated roof to the vehicle when folded. For example, an SCA roof uses multiple latches to keep the roof folded to the vehicle while an Austop roof uses gas struts to easily elevate the roof with little to no fuss. Saves you time and hassle when you are eager to get back on the road or settle down for the night. Along with being of low maintenance, the high quality materials used as apart of the overall design make a pop top roof a highly desired addition to any campervan.  

Having a pop top roof is a real challenge for any DIYer at any level, as you are literally taking apart the frame of the van and adding something completely different to its original form. Making it literally a home on wheels featuring it's very own extra room. Although there are professional fitters in the industry, there are many van owners taking on the task themselves with the help of online forums, Youtube videos, blog posts and articles guiding them along the way. It's the act of taking your van from a standard vehicle and converting it into your very own personalised campervan home that really makes the experience worthwhile. This is one of the reasons why living in a van is so popular, you are literally designing and creating your very own home on the road, ready to travel whenever the mood hits you.
There are many reasons why a pop top roof is popular in the campervan community, all of these add up to the countless pop top roofs being fitted everyday during one or more conversion process. With the additional space, natural light and versatile design, a pop top roof is a feature that improves the way of life for the occupants of a full time campervan and leaves any leisurely campervan enthusiasts with a quality feature that allows them to fully enjoy their time in their home on wheels.