It is estimated that there are over 225,000 motorhomes in use within the UK. With each campervan designed differently and decorated to suit each person's individual style, there are countless campers with unique looks. As motorhomes are a second way of living for many people, it makes sense that they are personalised and made to feel comfortable, stylish and homely. With this being said, there are many ways to decorate your camper and even more ways to personalise it during or after the conversion process. You don't have to have the same generic interior as someone else or keep it the same way the manufacturer intended it to look, there are various aspects that can be changed inside without having to redo the whole campervan. And so, here are a few tips and insights on ways to customise the interior of your motorhome.

Choose a color scheme
Every conversion seen on Instagram and Pinterest is the same in that they have their own personal colour theme running throughout the van. It helps to make your vam feel more like a home and allows you to be more comfortable as you've made it your own. But keep your scheme simple and cohesive, too many different colors and patterns may leave you with abit of a headache. Another idea is to create a statement wall that is bold and is the primary attraction of your interior, everything else is designed around this piece so that it is the central theme. Include some throw pillows for aesthetic and comfort, make sure you add things that don't only add to the appearance of the van but also the comfortability of it too. Add personal touches such as mementos from your travels, pictures of friends and family as well as paintings or trinkets. These will all help with any homesickness you may have when travelling and give your home on wheels a homely atmosphere.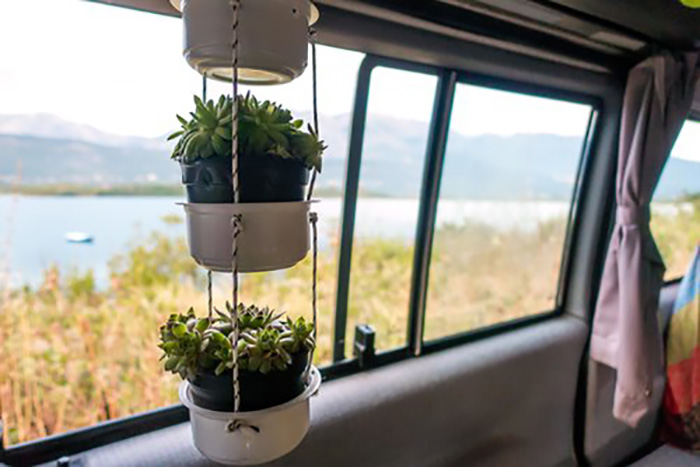 Include nature into your camper
Place plants both real and fake into your space to give it an airy, outdoor feel and make it more aesthetically pleasing. Flowers will add to the appearance of the interior and make the vehicle feel more comfortable as well as welcoming. A roof vent also gives the van more natural light and provides the illusion of more space in the campervan. Add curtains or blinds for windows, this means you can keep out the morning light when sleeping in and gives you more privacy as well as the illusion of staying indoors rather than in a camper parked up somewhere.

Customise your kitchen space
Splashbacks are popular additions to campervan interiors, these are small mosaic tiles that include colors or patterns and are glued onto the bottom wall for your kitchen section. It gives your interior more colour and really adds something attractive and different to your interior. Many campers use these tiles to fashion a pattern or shape with them, really you can do anything you like- it's your space after all. Also, with your kitchen area you can build little shelves for jars and spices. These safely store away extra cooking supplies and saves up room for more storage. Plus they make the camper look unique and quirky.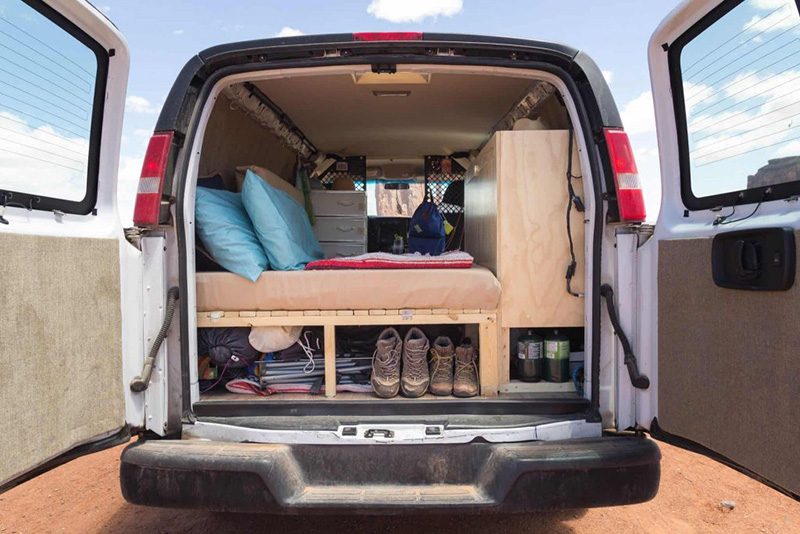 Storage space
Make use of the limited space and convert as much room as you can for storage. This way you have room to pack belongings away so that they are not left out and take up more space inside. Utilise the underside of the bed, overhead compartments and built in cabinets. Or, if there still isn't enough room for everything you can always get yourself a roof box and store some belongings on the roof of your campervan. This will not only clear up interior space but is a convenient and efficient way to gain an extra storage area and safely transport any cargo.

Make your space convenient and efficient
If you need a workspace, then building a small table that can easily fold away is one idea for a useful surface area in which you can rest your laptop or notepad when getting some work done. Or you can install swivel chairs as the driver and passengers seats so that when parked, you can turn around and work on a fitted surface such as a countertop, without the need to build something that may possibly take up extra space. It's all about utilising the space you have as much as you can.

As you can see, there are unlimited ways in which you can decorate your campervan from colour schemes to souvenirs and trinkets. By finding your own style and discovering how you want your camper to look and feel, this is the first step to converting the interior space into one that represents your needs. Regardless of whether you are travelling for a long amount of time or a short weekend, by making your motorhome comfortable and personalised you are getting the most out of your home on wheels.