Bonfire Night is a time to gather around outside with friends, family, neighbours and strangers alike. Enjoy epic firework displays that leaves the kids transfixed and a huge bonfire built from old pieces of furniture and wood, that is also used to keep you warm during the cold night. On this note, remember to layer up and keep warm as it's sure to be a cold night despite the large fire. Especially if you're in a campervan it's important to keep warm with an air heater and staying out of the cold air by watching the fireworks from the comfort of your motorhome. There are many ways for you the celebrate the night, from staying in for your own bonfire celebration to travelling somewhere for an organised festivity. Luckily, there are many ways to make the most out of the traditional night, you just have to find the one that is best suited to you and your families desires. With this being said, here are three ways that you can make the most out of Bonfire Night.

1.Have a night in
Having a night in may sound simple and boring, but staying in is a great way to enjoy all things related to Bonfire Night without the cold air and crowds to bother you. There are plenty of people who stay in and keep warm, all this means is that you can enjoy the many different fireworks from the comfort of your home. Also, as an added bonus, you don't have to pay to enjoy the show. Another element you can do while staying in is to make your own Bonfire Night snacks so you don't miss out on all the fun. Things like sticky toffee apples, hot chocolate and apple cider are seasonal food and drinks that are a must have at this time of the year. These recipes are easy enough to find online and can be made in no time. You can even buy some pumpkin spice syrup to put into your hot drinks and make your own pumpkin spiced latte. Even though you're staying in this Bonfire Night, doesn't mean you can't get into the spirit of things and enjoy the festivities. With 26% of the UK having a dog as a pet, there will be at least some staying indoors during the celebration. This is because some pets such as dogs have issues this time of year, so staying in also allows you to look after your pets, keep them company and reassure them when the loud fireworks leave them feeling unsettled. Whatever your reason for staying in, it doesn't have to stop you from enjoying the night anyway.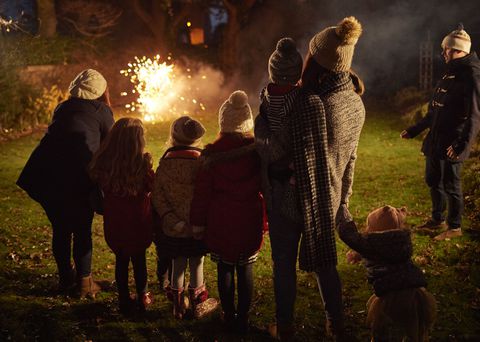 2. Create your own bonfire night
Sometimes it's difficult to go out for Bonfire Night, either your in work late or the kids need to go to bed early. So why not make your own bonfire and buy some fireworks to give your family their own private display. Avoid the huge crowds and stress of travelling on this busy night, devise your own way of celebrating that is one catered to your family. By making your own display you have the opportunity of keeping warm by staying inside and watching from the window. Plus, if the fireworks prove to be too much for any young children then it is easy to take them inside and away from the outside commotion. Sparklers are a must have for at home bonfires and are popular with younger children and adults alike. Everyone enjoys writing their name in the air with sparklers and are a great way to occupy children and keep them interested in the celebration. You can even do some face painting for the kids to help get them into the spirit and enjoy the night without having to go out. Similarly, spending your night in a motorhome is a great way to experience Bonfire Night whilst keeping warm and comfortable. Whether you are spending the night as a family, a couple or on your own, watching from a campervan is an ideal way to stay sheltered from the November chill and watch the night long fireworks.
3. Lewes, East Sussex
But if you're really looking to travel for Bonfire Night and spend the night doing something worthwhile, then the celebration in Lewes is a must see. This small town in East Sussex transforms into a place of epic Bonfire Night celebrations, having been crowned the biggest and most famous bonfire celebrations in UK, attracting upto 80,000 people. The town as a whole goes all out with a parade, multiple firework displays, face painted participants as well as themed and period costumes. This is a festival so big it is known as the bonfire capital of the world, with thousands of spectators traveling to see the show each year. The whole town takes the festivities very seriously, with six societies creating their own display to burn on seperate fires after parading them through town. As if choreographed, shops and other buildings in the small town get boarded up in preparation for the night festivities. If you are looking to travel this Bonfire Night and wish to go to somewhere that excels in fireworks and bonfire celebrations, then Lewes can certainly succeed in your estimations.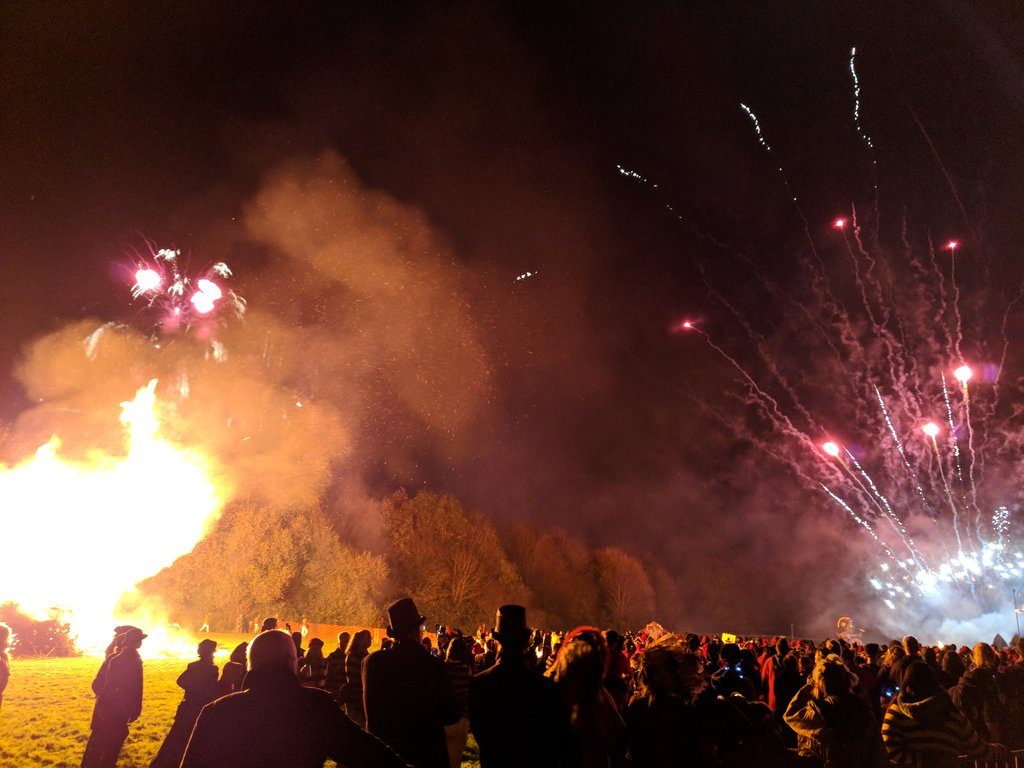 Ultimately, there is so much you can do to enjoy Bonfire Night in your own way, from buying fireworks yourself to travelling out of town. This time of the year is one that everyone can enjoy, old and young, with stunning firework displays, delicious themed food and a fun, social atmosphere. However you spend the night, make sure to layer up and stay as warm as you can in the cold air. With a variety of options available, make this Bonfire Night the best one yet and celebrate it in your own way.