Tow bar electrics
Tow bar electrics explained
Single 7 pin electrics or 12N towing electrics.


Single electrics or 12N electrics are used for towing trailers and for use with cycle carriers to power the cycle carrier lighting board which is needed if the cycles or carrier obstructs the view of the car rear lamps. Some newer vehicles may need a universal bypass relay fitted. You can l find out if your vehicle needs one on our tow-bar application lookup.

12N usages outlined
• Trailers without Leisure batteries
• Boat trailers
• Cycle carriers
• As a fly lead on clip on cycle carriers

12N diagram
Twin electrics 12S or 7 pin secondary towing electrics

12S electrics commonly referred to as the twin electrics socket and has a grey cover are used in conjuction with the 12N socket when towing caravans, trailer tents and alike. The 12S electrics are used to charge the leisure battery, the charge for this is taken from the towing vehicle charging system via an automatic split charging relay so that both leisure battery and vehicle battery have sufficient power. The 12S socket also contains a power feed for the reversing lights on the caravan.

12S usages outlined

• Caravans with a leisure battery.
• Trailer tents with a leisure battery.
• Catering trailers with a leisure battery.

12S wiring diagram
Leisure battery

Auxilary batteries or leisure batteries are used in caravans or trailer tents to power fridges whilst towing so that your food can be chilled whilst towing. To allow a leisure battery to charge a 12S (grey) socket is required.

Split charge relay

Split charge relays or tandem charge relays are used to divert charging current from the alternator on a towing vehicle and divert the charge via the 12S socket to the leisure battery in a caravan or catering trailer. Split charge relays are intelligent relays that can automatically sense when the vehicle that is towing needs the charge for its own battery and so switches back the charge to the vehicle.
Split charge relays are wired into the grey 12S socket or 13 pin socket and come in two amperage sizes 20 amp and 30 amp we only supply the 30amp version as it is suitable for all vehicles including those with gas fridges.

Split charge relay diagram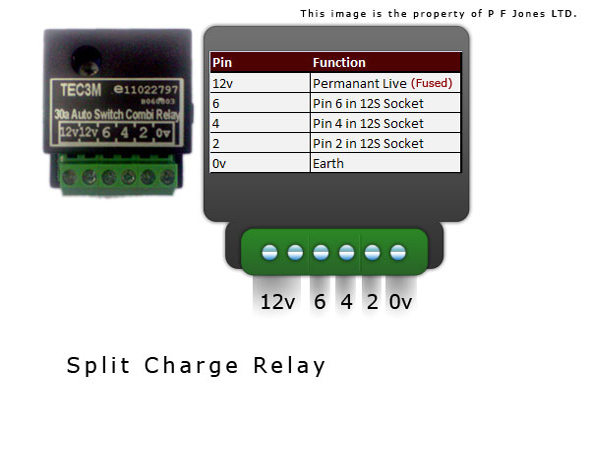 13 pin towing socket

13 pin towing sockets are the newest style of towing socket and as of September 2008 all caravans manufactured will be wired up with 13 pin plugs that meet ISO11446 ( international standards organisation ) and the U.K. representative B.S.I. ( British standards institute ) requirements. The 13 pin socket is also more adaptable for detachable tow-bars that have a spring mounting single socket plate that can be folded up behind the bumper so that it is invisible.

• If your car has a 13 pin socket and your caravan has 2 x 7 pin towing plugs (12N + 12S) you can purchase a conversion lead MP603 from us to allow you to tow.
• If your caravan has a 13 pin plug but your car has 2 x 7 pin sockets (12N + 12S) you can purchase conversion lead TF1360 to allow you to tow.
13 pin wiring diagram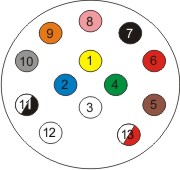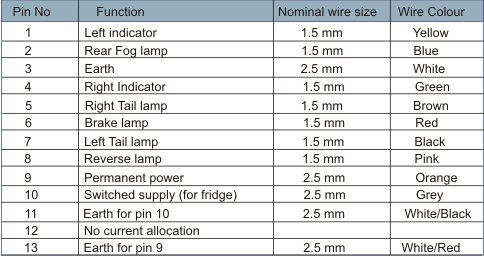 Universal bypass relay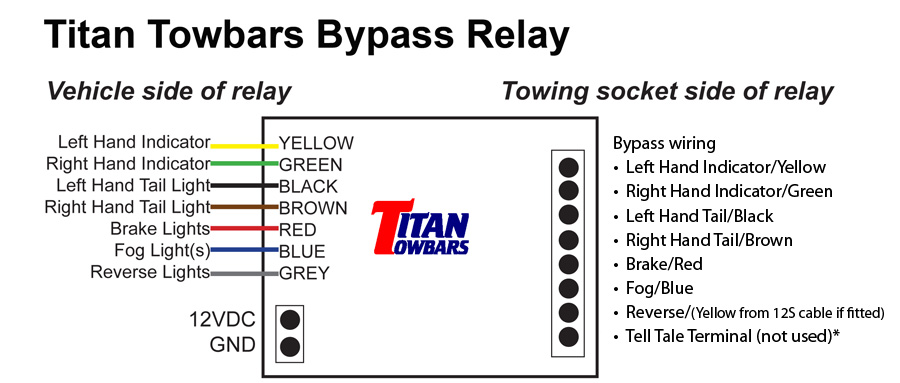 **White wire from 7 core socket cable to chassis EARTH**
*only to be used when fitting an additional warning light or buzzer.

Fog light function - to activate fog lights on attached trailer - turn fog lights on, then immediately off.
Fog lights will now ONLY be illuminated on trailer. As a reminder, a warning buzzer will activate
every 90 seconds in the vehicle. To cancel this function - turn off side lights.

For vehicles with combined brake and tail light you have to discard (not connect)
the black and brown wire on the bypass relay (input side only) and connect the
single wire on the vehicle to the red wire on bypass relay.
Glossary
• TSP trailer stability program is a design is some vehicles to reduce snaking whilst towing.
• Canbus Controller area network allows sensors in a vehicle to interact without a master controller.
• ACC Adaptive cruise control adjusts the power to the cruise control when towing.
Vehicle specific wiring kits

Vehicle specific wiring kits in the majority of cases connect directly into the manufacturers dedicated socket. In some vehicles it is necessary to run other cables which are all supplied within the dedicated kit with detailed instructions of where to find the plugs and wires that you need from around the vehicle.

Some vehicles also need a compulsory download from the vehicle main agent to make the vehicle aware that these towing electrics are fitted, but again that is dependent on the make and model of the vehicle, all vehicles that do are outlined in our online application list.

The advantages of a dedicated wiring kit are that the vehicle will know when you are towing and will automatically adjust the following (only if the vehicle has them).
• Brake electronics
• Engine electronics
• Cruise control or A.C.C.
• Parking aids
• Reversing cameras
• Lane change assisting
• Suspension system
• Engine cooling system
• T.S.P.
Read more about Towbar Electrics in our defintive towbar electrics guide.